How To Make Goals And Achieve Them
On January 15, 2009, U.S. Airways Flight 1549 struck a flock of Canadian geese during its climb from LaGuardia Airport in New York City. The bird strike disabled both engines of the Airbus A320, causing a complete loss of engine power. At the controls, Captain Chesley "Sully" Sullenberger stunned the world when he safely landed the crippled airplane on the surface of the Hudson River, saving the lives of all 155 people aboard. Had another pilot been at the controls that day, the story might have ended differently.
Captain Sullenberger was uniquely prepared to glide an unpowered Airbus to a splash landing. As the Associated Press observed (and note the words "prepared" and "preparing" in this article):
Pilot's Life Had Prepared Him for "Miracle" Flight
Chesley Sullenberger spent practically his whole life preparing for the five-minute crucible that was U.S. Airways Flight 1549. He got his pilot's license at 14, was named best aviator in his class at the Air Force Academy, flew fighter jets, investigated air disasters, mastered glider flying and even studied the psychology of how cockpit crews behave in a crisis …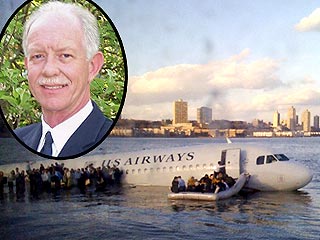 "This is someone who has not just spent his life flying airplanes, but has actually dug very deeply into what makes these things work, and I think he proved it," said Robert Bea, a civil engineer who has known Sullenberger for a year.
In an interview on PBS NewsHour, Captain Sullenberger told interviewer Jeffrey Brown, "Many people who have found themselves in such an extraordinary circumstance … really do feel like their entire lives [have] been a preparation for that moment. And I think that's especially true in my case, because I remember vividly as a child knowing that I needed to be prepared for whatever might come … It's been said that a smart person learns from his or her own experiences, but a wise person learns also from the experiences of others … In fact, in flying jet fighters, if you don't learn from other people's experiences, and you learn only from your own, you might not survive."
Not only was Captain Sullenberger prepared for this emergency, , but the city of New York was uniquely prepared to respond – one positive result of the tragic events of 9/11. Less than five minutes after splashdown, the floating Airbus was surrounded by ferry boats, tugboats, and helicopters, all taking highly trained first responders out to rescue the passengers. All of those emergency personnel had drilled and prepared for such an event. Focused preparation was the key to turning a potential disaster into a heroic success.
One of the most important ways we can focus on tomorrow is by preparing ourselves today. Unfortunately, we live in an instant-gratification culture, and many people today lack the patience to adequately prepare for sucess – and that is why they fail. Being fully prepared enables us to approach our goals with confidence and an intense focus. If you take time to make sure that nothing is left undone, nothing is left to chance, then you can face any challenge with the confidence that comes from knowing you are fully prepared.
In order to prepare for tomorrow, we must use our time wisely today. Preparation isn't always glamorous or fun, but you won't succeed if you aren't willing to invest time and effort in preparing for success. As tennis champion Arthur Ashe once said, "One important key to success is self-confidence. An important key to self-confidence is preparation."
The late UCLA basketball coach John Wooden was a good friend to me, and I had the privilege of writing two books about his life, his character, and his success principles. He was famous for his oft-quoted sayings known as "Woodenisms." One of his best-known sayings was this: "Failing to prepare is preparing to fail." If you want to focus on your goals and achieve your dreams, you must spend time in planning, practicing, and preparing for your moment of crisis or opportunity. Here, then, are some steps you can take to help you to prepare for tomorrow.
Step 1: Practice Anticipating the Future
Baseball Hall of Famer Reggie Jackson often referred to winning as "the science of preparation," adding that "preparation can be defined in three words: leave nothing undone. No detail is too small.'' I would suggest that those three words – leave nothing undone – be condensed to a single word: anticipation. Successful people are those who have learned to anticipate the future and prepare for it by leaving nothing undone.
Eddie Lampert, chairman and CEO of ESL Investments explained how he learned to anticipate the future. He said that as a boy, he and his father would toss a football in the yard. His dad would say, "Go out ten steps. Turn to your right." So Eddie would follow his father's instructions, go out, turn, and the ball would fly into his arms and hit him in the chest just as he turned – a perfect reception.
When Eddie asked why he needed to learn to run routes this way, his father explained, "If I waited for you to turn [before I throw the ball], you and the defensive player would have an equal chance to get the ball." This way, Eddie would have the advantage – because he could anticipate the future and the defender could not.
Anticipation, Eddie Lampert concludes, is the key to success in business. "You can't wait for an opportunity to become obvious. You have to think, 'Here's what other people and companies have done under certain circumstances. Now, under these new circumstances, how is this management likely to behave?' The plays my father designed for me helped me learn to think ahead. Lots of days I asked him, 'Why can't we just invite kids over and play a game?' In order to do something well, he explained, you have to keep practicing and preparing." I'll continue with other steps in my next post. Before that, you can check out How To Make Goals And Achieve Them.
No related posts.